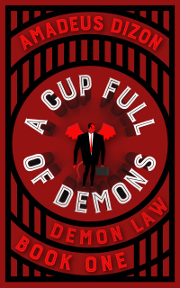 A Cup Full of Demons
Barney River is a simple lawyer in Santa Cruz, CA, who just wants to help his human clients deal with whatever messes they've gotten into with the local demons, whether they're contract disputes, auto accidents, or having their bodies possessed without permission. But when Barney's latest case leads him to a frantic and deadly hunt for a powerful magical weapon, he will have to decide whether to cut and run, or stay and save his clients from angry demons, human warlocks, government special forces, and a still-developing legal system on the brink of chaos.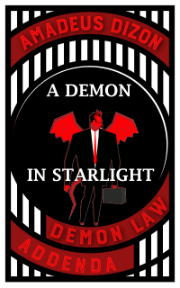 A Demon in Starlight
Local counsel gigs are easy, even in the Unified Demon Court. Or at least they should be. But when Barney River takes the case of a young actress, whose valuables were stolen while partying at a demon-owned, Santa Cruz resort hotel, he discovers that even the easiest cases can get him threatened, beaten, and thrown out of perfectly good windows. Add in the mystery of a friend's missing tattoos and the constant, unwanted attentions of a bored, but well-dressed, gazillionaire, demon lawyer, and you've got yourself all the ingredients of a great demon-lawyer pie. Or something like that.
A Demon in Starlight is a companion novella of the Demon Law Books series, which starts with the full-length A Cup Full of Demons.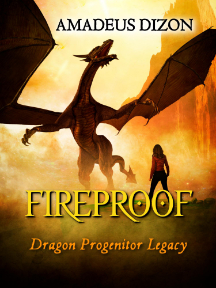 Fireproof
Angelica Catalan is in her first semester of college and she has more than enough to worry about. Aside from just going to class and doing her homework, her professors want her to pick a major, her roommate wants her to go to more parties, her boss wants her to work more efficiently at the antique shop, and her online gaming rivals want her to stop kicking their butts. Her whole world is up-ended, though, when mysterious men get into a fight at the antique shop and a blast of fire sends her to the hospital in a coma. After receiving a skin graft from one of the fighters, she seems to heal up quickly and return to her life.
But something has changed.
Angelica starts to experience new sensations and develop unexpected power while noticing strange people watching her. Soon, Angelica is running for her life, chased by several rival groups, and finding refuge with something that couldn't possibly exist—a society of dragons locked in a centuries-long war for their own survival.